at Service4Service Blog in BMW
Exciting New Vids of BMW Concept Active Tourer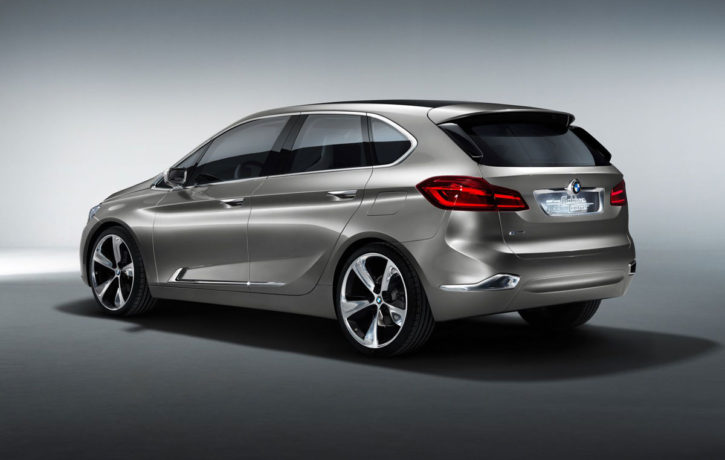 Journey back to September 2012 when BMW set their brand purists world's on fire with the debut of their very first front-wheel drive (FWD) concept hatchback – The Concept Active Tourer (the C.A.T.).
The Munich manufacturer's unconventional move to producing a FWD with a transversely mounted engine was reported as a U-turn on the company's long-standing belief in longitudinally mounted, rear-wheel drives as the best option for a balanced and dynamic driving experience.
The result, however, is an attractive hybrid MPV, likely to be branded as the 1 Series GT, that is set to target the Mercedes B Class and VW Gold Plus demographics in 2014 with the Bee-Em's Mini brand of cars utilising an identical powertrain platform in their new 2013 models.
Videos of The Tourer
Since the C.A.T.'s unveiling, BMW has unleashed two exciting new videos, that clearly target city folk with families or active lifestyles, to promote its spacious interior, hybrid technology, and stylish new features – all of which are contained within a sleek and compact exterior that is well suited for the 1 series.
Click on the video links below to see the latest BMW promo videos:
Video 1 – The latest advert for the BMW C.A.T.
Video 2 – Exterior features of the BMW Concept Active Tourer
More About The Concept Active Tourer
Est. Top Speed: 120mph
CO2 output: below 60g/km
0-60mph: 8.0sec
Electric-only range: 18 miles
Powertrain:
Hybrid (3 cylinder, 1.5 turbo engine
& plug-in rear axle electric motor)
Power (petrol):

expected 188bhp (combined)

120-200bhp (BMW B38 engine)

67bhp (electric motor alone)

Fuel Economy: <130 miles per gallon
Driving modes: Comfort, Sport & Eco Pro
Under the Bonnet
The car's first unveiling contained BMW's latest 1.5 litre, 3 cylinder direct injection petrol engine ('the B38') in a transverse mount that drives the front wheels – expected to be 5-15% more economical than BMW's current N20 four-cylinder engines. Diesel versions will also be available in the production versions.
The concept's powertrain also consists of an electric motor that drives the car's rear wheels with a power output of 67bhp alone and is capable of travelling for up to 18 miles before its lithium ion battery, mounted in the floor of the vehicle, requires charging from a plug-in station.
The overall combination of the electric and petrol powered engines make it an AWD (all wheel drive) vehicle, however, entry-level versions of the Tourer are expected to be front-wheel drive alone.
Spacious Interior
The designers at BMW said that the C.A.T. was designed from the inside to out which has lead to a very spacious interior similar to the X5 but without the huge exterior – possible thanks to the choice of a transverse mounting engine, which also creates a shorter bonnet.
The majority of the cabin features cream leather with a darker soft-leather on the dashboard and touches of contrasting fluorescent orange trim that give the car a futuristic appearance – reminiscent of the vehicles in Tron Legacy.
To maximise functional space within the car, the German designers have allowed the rear seats to fold down and form a completely flat load area – perfect storage for your board if you're a keen surfer like the guy in BMW's promo video.
Impressive Additions
Alongside the expected gadgets and gizmos (8 inch display for sat nav and car systems, portable device plug in ports for back seat travellers) the Tourer also has an impressive glass roof that uses cool shade technology, allowing the driver or passengers to adjust how much light they'd like to let into the car.
This feature is presented in the second of BMW's videos but with a autumn pattern which questions whether or not there is a customisable option included with this innovation?
As well as a high-spec roof, the concept was also presented with 20 inch alloys, slimline door handles, and smooth bodywork that broke away from the ugly conventions of traditional bumpers, however, these are said to be altered in the actual production car to provide the standard version of these features.
Summary
Although the move to a front-wheel-drive is one that may be frowned upon by fans of the Bavarian Motor Works, the Concept Active Tourer is an impressive vehicle that offers a powerful option to family car owners with its masses of interior space and compact body size.
Additionally, it's CO2 emission rating and expected fuel economy is not to be sniffed at as this car could meet the demand for vehicles with greater mpg in a world if constantly hiking fuel prices.
BMW's Concept Active Tourer is expected for release in 2014.
The following two tabs change content below.
Randal
Randal Whitmore is an enthusiastic motoring writer at Service 4 Service and a great fan of Formula 1 motorsport with McLaren-Mercedes being his favourite team. He hopes to own a
BMW
3 Series one day although his old faithful '93 Micra is still rolling on.