Warranty Claims Undertaken
Free Recovery &
Diagnostics (terms apply)
0% Finance Available on Repairs
12 Month Guarantee Across All Vehicles
Browse the Latest Work from Our Specialist Repair Centres
Browse our gallery of some of the latest gearbox, transmission and engine repairs and replacements, from experienced technicians at our specialist repair centres local to you. Our technicians provide exceptional services for all makes and models.
Gearbox & Transmission Repairs Specialist
Guaranteed protection on your manufacturer's warranty
Manual gearboxes
Automatic gearboxes
Semi-automatic gearboxes
DSG & Mechatronic gearboxes
Powershift gearboxes
Common Gearbox Problems
Not selecting gear or dropping out of gear
Burning smell from leaking transmission fluid
Gearbox is not responding in 'Drive'
Noisy gearbox i.e. whining/crunching/humming
DSG Mechatronic Unit faults
Desynchronised transmission
Gearbox leaking oil or fluid
The Benefits of Our Gearbox Repairs
All major manufacturers & models
Warranty companies/claims undertaken
Vehicle recovery or collection
Full diagnostics & reprogramming
Manufacturer's Warranty protected
0% finance option for costs over £350
12-month warranty on all parts
Gearbox

Diagnostics
A faulty gearbox can drastically impact the performance of your vehicle, as it plays a vital part in its mechanical operation. Therefore it is of great importance that your gearbox is kept in optimum condition in order to maintain your vehicle's performance. Our highly trained technicians can confidently diagnose any issues with your gearbox, with the help of the latest specialist computer diagnostic equipment.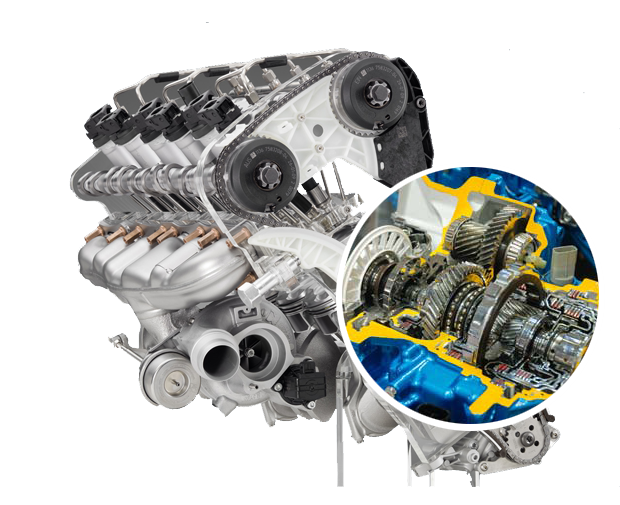 Gearbox Repairs & Replacements for All Major Manufacturers
Your vehicle's transmission is a very complex mechanical and electrical system, however, many gearbox repairs are often small and affordable. If you ignore the warnings, your gearbox can often become expensive to repair further down the road. If your car is slipping gears, leaking fluid or slow to react, then you might have a problem with your transmission.
At Service4Service we provide high-quality gearbox repairs near me, gearbox refurbishment and gearbox replacements for all major manufacturers. We offer repairs for manual gearboxes, automatic gearbox repairs, Powershift gearbox repairs and DSG gearbox repairs. We only use OEM or manufacturer-warranty approved parts to ensure that our customers' vehicles remain in top condition. For expert manual and automatic gearbox repairs and replacements, our gearbox technicians provide exceptional mechanical services.
✔ Warranty Claims Undertaken ✔ 0% Finance Options Available
✔ Free Recovery & Diagnostics ✔ 12-Month Guarantee
Spread the Cost with 0% Interest-Free Finance on Servicing & Repairs
At Service4Service we want to help ease the cost of your car service or any other unexpected vehicle repairs, by offering our customers the option to spread the cost of their repair bill over either four or ten months, interest-free with a choice of car repair payment plans.
4 months interest-free option
Car repair or servicing costs totalling over £350.
Spread the cost over 4 months interest-free.
You pay 25% of the total upon application.
The remaining 75% is spread over 3 equal monthly payments.
You must have a valid UK debit card to arrange the payment plan.
10 months interest-free option
Car repair or servicing costs totalling over £1000.
Spread the cost over 10 months interest-free.
Deposit between 10% - 50%.
Finance subject to acceptance.
You must have a valid UK debit card to arrange the payment plan.
Audi Gearboxes
We can provide fast and inexpensive Audi gearbox repairs, rebuilds and transmission fault diagnosis, including S-Tronic, Multitronic, DSG transmissions and DSG Mechatronic Unit repair.
Ford Gearboxes
We can diagnose Ford Powershift and Dual-Clutch transmission faults. We also offer Ford gearbox repairs, reconditioning and refurbishment, which can help save you money.
Land Rover Gearboxes
Land Rover gearbox repairs are an important part of your car maintenance needs. At Service4Service we offer our customers a high-quality Land Rover gearbox replacement service.
Nissan Gearboxes
Save money on Nissan gearbox repairs including CTV transmission faults. Our technicians can diagnose any issues with your Nissan gearbox and advise you on the best course of repair. We only use approved parts.
Mercedes Gearboxes
Mercedes gearbox repair, gearbox reconditioning and refurbishment are available, including 5G, 7G & 9G TRONIC transmission faults. We can advise you on the best course of repair for your vehicle.
Skoda Gearboxes
Skoda gearbox repairs including DSG gearbox problems. We also offer Skoda gearbox reconditioning and refurbishment, which can help save you money on gearbox replacement costs.
BMW Gearboxes
BMW gearbox repairs and diagnostics, including BMW automatic gearbox repairs, ZF transmissions and BMW gearbox replacement. Book a repair with a BMW gearbox specialist.
VW Gearboxes
Service4Service offer high-quality Volkswagen gearbox repairs, for both VW manual gearboxes and Volkswagen automatic gearboxes, including the diagnosis and repair of DSG faults.
Vauxhall Gearboxes
Local and affordable Vauxhall gearbox repairs including F17, F18, F23, M20 & M32 faults. Our technicians can confidently diagnose any issues with your Vauxhall gearbox.
How Our Car Repairs Work
Complete our repair enquiry form and await a call, or call us to speak to one of our specialist advisors on 0808 164 0418.
We'll try to estimate the issue with your vehicle, based upon the information you provide, along with approximate repair costs. Before inspecting the vehicle, all we can do estimate the faults and costs.
We will arrange for your vehicle to be recovered into one of our specialist repairs centres in order to give a full diagnosis of the problem and exact costs.
Should you proceed with major repairs* then the costs incurred for both the diagnostic checks and the vehicle recovery will be reduced to £0! We don't charge more than repair costs when our customers go ahead with major works with us!
Diagnostic reports are usually available on the next working day, we don't want to leave people wondering.
We work will all the major warranty companies and will process the claim on your behalf to save you additional stress at difficult times.
We will let you know if there is likely to be any delays to the estimated repair times.
When repairs are complete and final payments are made or finance agreements are in place, we will attempt to return your vehicle by the end of the following working day.
You will have an invoice detailing the work completed, including our warranty of 12 months or 12000 miles.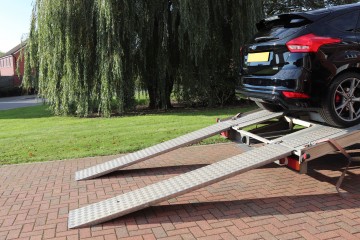 Free Vehicle Recovery & Diagnostics
Subject to our terms & conditions.
Our professional staff will book your service or repair at one of our centres local to you, arranging for your vehicle to be collected from a location that suits you. If any additional or advised work is required, we'll always call you first. We will not undertake work without your authorisation. There is a 12-month warranty on all parts and labour and your existing manufacturer's warranty is protected.
Please click the button below to make an enquiry or call us on 0808 164 0418 to book a repair, local to you, with a specialist technician at Service4Service.
What types of gearbox repairs can you carry out?
We provide several options to rectify a faulty gearbox including reconditioning your existing gearbox, replacing with a new gearbox or replacing with a reconditioned gearbox. Our specialist gearbox technicians only fit Original Equipment Manufacturer (OEM) approved parts only and all gearbox repairs come with a 12-month guarantee.
Why is my gearbox leaking oil?
Oil leaks can happen for a number of reasons, from wear and tear or broken seals to overfilled oil levels. Over time, your vehicle is at risk of general wear and tear and unfortunately, that includes your gearbox and it's related connections. Leaks should be fixed quickly, so it's best to speak to a professional and get your car checked over at an approved garage.
What equipment do you use to repair gearboxes?
At Service4Service, we can confidently diagnose any gearbox issues using the latest computer diagnostic equipment, repairing and replacing only the things that require it, using industry-approved tools and parts.
Will I need a new gearbox if it's slipping out of gear?
It is rare that you will require a new gearbox if it is slipping out of gear. A fault like this can be caused by any number of reasons, such as low fluid levels. Regular maintenance and inspections of your gearbox and all of the related components will save you time and money.
What causes a gearbox to break?
Even when we think we're taking care of our cars, our gearboxes can still break down, lack of care, poor quality oil and poor driving habits are some of the most common reasons for a gearbox to break.
Should I be worried if my gearbox is making noises?
Unusual noises are one of the most obvious signs that something might be not quite right. Whether it's whining, whirring, clunking or grinding, if you're hearing anything out of the ordinary, it can be a sign to contact a gearbox repair specialist.
Why does my gearbox make a grinding noise?
The gearbox shafts need to be moving at the same speed in order to change gears smoothly and when this doesn't happen, you'll hear grinding. Modern cars tend to have a synchroniser ring to help keep both parts up to speed, but this can also go wrong from time to time, so it's best to have things checked out.
Will I need a new gearbox if it's leaking fluid?
We would need to see your vehicle in order to correctly diagnose the issue. A leaking gearbox could be caused by a number of issues which usually only require a minor repair, so you should always visit a gearbox specialist to get it repaired quickly. Ignoring a leaking gearbox might lead to further damage.
Why does my vehicle need the gearbox removed?
Some parts of your gearbox can be repaired without removing them from your vehicle, but not all transmission parts are quite so easily accessible. If a gearbox component needs to be repaired or replaced and it cannot be accessed from underneath the vehicle, then the transmission will need to be removed from the vehicle.
Why does my vehicle need a gearbox rebuild?
Some damage to the gearbox may go beyond the repair of a single component. Over time, wear and tear can cause gears and other parts to not function properly. When this happens, a gearbox rebuild is needed to replace the faulty and damaged parts. With years of experience, our technicians can rebuild your existing gearbox using the latest technology.
Areas We Cover
Aberdeenshire
Aberdeen
Ayrshire
Dundonald
Kilmarnock
Bedfordshire
Biggleswade
Leighton Buzzard
Berkshire
Newbury
Reading
Slough
Bristol
Avonmouth
Bedminster
Yate
Buckinghamshire
Edlesborough
Cambridgeshire
Cambridge
Duxford
Pampisford
Peterborough
St. Ives
St. Neots
Wisbech
Cheshire
Chester
Saltney
Warrington
Clwyd
Llay
Wrexham
Cornwall
Hayle
Helston
Mawgan
Penryn
St. Austell
County Durham
Darlington
Durham
Cumbria
Carlisle
Ulverston
Whitehaven
Workington
Derbyshire
Church Gresley
Derby
Swadlincote
Devon
Exeter
Ivybridge
Newton Abbot
Plymouth
Totnes
Dorset
Blandford Forum
Poole
East Riding of Yorkshire
Hull
Essex
Colchester
Leigh-on-sea
Maldon
Rochford
Southend-on-Sea
Waltham Abbey
Falkirk
Bonnybridge
Fife
Buckhaven
Dunfermline
Leven
Flintshire
Deeside
Hawarden
Mold
Sandycroft
Queensferry
Gloucestershire
Gloucester
Stroud
Hampshire
Farnborough
Havant
Southampton
Winchester
Hitchin
Letchworth Garden City
Ross-on-Wye
Scottish Highlands
Culloden
Inverness
Isle Of Wight
Newport
Ventnor
Kent
Ashford
Chatham
Folkestone
Hythe
Swanley
Swanscombe
Lanarkshire
Airdrie
Glasgow
Hamilton
Lancashire
Blackburn
Burnley
Leyland
Morecambe
Thornton-Cleveleys
Leicestershire
Leicester
Lincolnshire
Boston
Grantham
Grimsby
Market Rasen
Sleaford
London
Acton
Barking
Croydon
Dagenham
Enfield
Haringey
Harrow
Tottenham
Thamesmead
Wimbledon
Manchester
Bolton
Droylsden
Stockport
Wigan
Bootle
Prenton
Walton
Wirral
Midlothian
Edinburgh
Newcastle Upon Tyne
Shiremoor
Norfolk
Diss
Norwich
Rackheath
Swardeston
Thetford
Northamptonshire
Kettering
Northampton
Northumberland
Morpeth
North Yorkshire
Middlesbrough
Selby
Nottinghamshire
Long Eaton
Newark
Nottingham
Oxfordshire
Banbury
Bicester
Didcot
Great Milton
Oxford
Shropshire
Oswestry
Telford
Somerset
Haselbury Plucknett
Taunton
Yeovil
Southampton
Holbury
South Yorkshire
Barnsley
Rotherham
Sheffield
Staffordshire
Barlaston
Stafford
Stoke-on-Trent
Suffolk
Ipswich
Woodbridge
Surrey
Ashford
Chertsey
Godstone
Kingston-Upon-Thames
Morden
Walton-on-Thames
Warlingham
East & West Sussex
Brighton
Hastings
Haywards Heath
Horsham
Hove
Littlehampton
Southwick
St. Leonards-on-sea
Tyne and Wear
Newcastle-Upon-Tyne
Wales
Blaenau Gwent
Carmarthen
Carmarthenshire
Cardiff
Colwyn Bay
Conwy
Haverfordwest
Llandovery
Pembrokeshire
Merthyr Tydfil
Neath
Swansea
Warwickshire
Atherstone
Butlers Marston
Warwick
Westlothian (Linlithgowshire)
Kirknewton
West Midlands
Birmingham
Coventry
Erdington
Walsall
West Yorkshire
Bradford
Dewsbury
Heckmondwike
Huddersfield
Leeds
Wakefield
Wiltshire
Amesbury
Corsham
Devizes
Salisbury
Swindon
Warminster
Westbury
Wroughton
Worcestershire
Redditch
Upton-upon-severn
Worcester
Recent Customer Reviews
Good service with car collected and delivered for my Gearbox rebuild. A++.
Brilliants technicians and service.
My car had some problem in gear-box so that I couldn't rive it well. They found out all the problems top to bottom and fixed them all within 1 hour. Technicians are so knowledgeable and experienced in this sector, recommend this shop much.
Really pleased. I would recommend Service4Service if you need your gearbox fixing. Jordan looked after my car throughout the repair and kept me updated of progress and so much cheaper than other quotes I'd got! Great to have my car back on the road. Thank you.
My car was displaying "Service Transmission" message. After calling CS, Aaron helped me to understand the process and he booked a collection right away. He also explained that I need to expect high costs. Although the final cost was much higher than expected, the repair was carried out in a timely manner and I was informed of the progress.
After reviews on other garages and being a bit concerned how will such a big repair go, I am very satisfied with the end result.
If I ever have such a problem with my car (hopefully not for a long time) I'd choose Service4Service again so I can be sure my car is looked after properly.
Recently I used S4S and must say they have done a fantastic job on my Audi auto gearbox my car has been a fun family car for 10 yrs now and did not want to park it up for good! This was an expensive repair but worth every penny the car now feels like new and gearbox is lovely. Great work guys.
After buying my 4 year old BMW 4 series just 4 months ago I was very unhappy when I had a major gearbox fault, I spoke to multiple different "gearbox specialists" about this who all seemed unsure about what was going on until speaking with Julian who basically diagnosed the fault and me a estimate over the phone! From start to finish my car was with them about 2 weeks and the communication from the team was fantastic! I couldn't be happier with the service received! It even ended up being cheeper than I was initially quoted! The car is now running better than ever, will definitely be calling when I'm due a service!! Thanks guys!
After my gearbox broke down I feared the worse. Chris looked after me through the process & kept me informed & made the whole process easy. The price was even less than we originally thought. Would highly recommend he is the man to help you.
Booked my car in for a gearbox repair and I honestly couldn't be happier. Quick, seamless collection service. Report given over the phone a few days later along with pictures and they even dealt with my warranty company. Got my car back this evening and it is running like a dream. Thank you so much! Will definitely be back for my service when it's due!
I thought it only right to write a few lines about how excellent and brilliant S4S are when handling your vehicle. I have Ford S Max and before Christmas starting the car in early morning, would not move forward or backwards,. Called RAC out who could not fix the problem and they advised a local garage. After about a week they decided i needed a new gearbox and the Powershift had gone and quoted £6500 without labour or VAT! So rang around and no one touches these Powershift gearboxes given the complex and labour intensive. Ford simply replace and astronomical prices! Some how i found S4S on the internet and from the first moment when i called, they were brilliant. Without even the car in front of them them they knew exactly what the problem was and a price third of the local garages. But the most incredible thing is they found the fault which local garages could not. They were so reassuring and confident they could fix it and really put me at ease. The best thing is they really speak to you like a best friend and in plain English. They will talk you through all the stages of repair right up to returning your car. I would not mention names but the two stand out staff are Chris Lindsay and Valentino who just go way over any customer service. Nothing is too much and even if you call then two or three times a day to answer a question, they are so good every time. The car.... well it runs better and smoother than even at the time i bought it. If in doubt, do not hesitate to use this firm. They will get you car back on the road.
Gearbox Joys. Aaron - called up as i needed someone specialist for a major problem of a new car for me, (Audi A5 3l TDI)

Aaron spoke me through the process and got my car over asap, kept clear and concise information on when the car would arrive, any extra issues were rectified and sorted asap. made sure they did a good job and kept communication clear even though the car had been delivered and sorted after.
Great Service from start to finish. Huge thanks to Jordan and everyone at Service 4 Service. No garages in my area were keen to tackle the gear box on my Toyota campervan but after a phone call and some helpful discussion the van was picked up from home, taken to a garage that did the job and it was back outside and running great in no time at all. Really pleased with the service from start to finish.
This review is well overdue, but nonetheless, it was imperative that I completed it. The sincere help, support and care I received from Jon Wood at Service 4 Service and Dave at A1 Premier Transmissions has been nothing but amazing!!!

I experienced a very tough time with my car finance company and original dealers at the time, and the patience direct communication and professionalism displayed by Jon was extremely commendable and I cannot thank him enough for all of his support.

Jon, you were a diamond and haven't/won't forget you. You're an honest trustworthy member of your establishment and I won't think twice to use your services again.
I had my automatic gearbox rebuilt by these guys and I experienced the best and most reliable friendly service I've had in 36 years. Absolutely wonderful, I'm sticking with service 4 service henceforth. All round 100℅ good service, keep it up guys!
This garage is OUTSTANDING!!! I've had no end of trouble with the garage I bought my car from(not this one) the gearbox went on it (powershift kuga)and the other garage(a leading Ford dealership)was at fault through lying to me about previous problems with the gearbox. Service4service identified the problem and to this day is still helping me to get it sorted. They've allowed my vehicle to stay with them(still there) whilst also talking to my finance company on my behalf. The lengths they will go for their customers has blown my mind, Jon who has been dealing with it all the way deserves a medal. I WOULD HIGHLY RECOMMEND THIS COMPANY ABOVE ALL ELSE.
The gear box in my Nissan Juke automatic CVT stopped working. It was costly to fix (£3,340.00).

But to be honest the service was incredible. They fixed my car in a faster time period than I expect and the pick up delivery service they offer is great.
Mechatronic issues resolved with my Golf. Received a call to make sure everything was good which was nice 👍🏼
Gearbox fault on my Car Got messed about by other companies so tried these for first time. Good communication from them and most importantly they sorted it out. Would recommend and would use again definitely.
Fantastic Service. These guys are great they go the extra mile and do a super job. Cannot recommend them enough I have used them twice once for a gearbox re-build and once for service. Both times helpful courteous and really good work.
They know what they are talking about! I have used this company a few times now for our cars and I was just as impressed this time too. Had a service and MOT last year and all was done efficiently, (such a bonus having them pick the car up and bring it back). Then, I had the gearbox fail on our other car a few weeks ago. I spoke with Chris at Service 4 Service and he was really helpful, explained the process and rough costs up front. I was kept updated throughout as it took a couple of weeks in total, but car drives good as new now. Would happily recommend them.
Excellent friendly service great job loads of help with warranty company thanks lads.
I just wanted to say what a brilliant experience I had from start to finish with this company. My car's gearbox was shot and my car had been sat on damp grass for over two months due to my local garage being unable to fix it or to keep us regularly updated with their plan (I don't think they even had a plan). I wish I had contacted this company so much sooner than I did because once they took over, they took all the stress out of the situation. Liam was the guy that dealt with us from start to finish. He was very knowledgeable and reassuring and his customer service was faultless. Service 4servive collected my car from the local garage, fixed it and then delivered it back to us at home. I'm so happy to finally have our family car back after nearly three months without it. The cost wasn't cheap but the labour was intensive and I don't believe I would have gotten the job done any cheaper elsewhere. This company even allowed us to pay the final bill (after deposit) with interest free finance. I'm really pleased and just wanted to pass on my thanks to Liam and everyone else at service 4 service who played a part in delivering such great service. Thank you x
We recently had the usual Ford mps6 gearbox failure so decided to have the repair done by service 4 service. My mother in law was very worried as she has had bad experiences with garages before. Jon made sure her mind was at rest, keeping us posted through the whole process. He gave us detailed explanations to what had failed in the gearbox and the procedures that they would be carrying out. We explained that money is tight and they understood so as soon as we sent them the deposit, they began the work. He was very polite and helpful to which we can't thank enough. The remainder of the bill was paid and we were given a delivery date but the car arrived early. Unfortunately the car came back with oil stains on the carpet so we emailed Jon. He refunded enough of our bill to have the car fully valeted by a local mobile valeter.
Would definitely recommend and for those who worry, Ask for jon. He honestly can't help enough and he also has a little laugh with you to make you feel a little better.
Service4Service are an excellent company to do business with. When you are lacking in knowledge yourself, they provide great guidance with no pressure and prove themselves to be a trustworthy company. I had to have some major gearbox repairs undertaken to my car, I was kept updated throughout and the car was both collected and delivered saving the hassle of getting to and from.

I especially wanted to thank Jon Wood for the excellent service, advice and guidance and for keeping regularly in touch - nothing was too much trouble for Jon and he was able to answer all of my questions thoroughly so that I could make fully informed decisions.

Service4Service also do routine maintenance as well as major mechanical repairs. I can not rate them highly enough, honesty and trust goes a very long way when dealing with a company, especially if you have never worked with them before.

I highly recommend the services of Service4Service and will be using them next time my car needs servicing or other works.
Pick-up and delivery of vehicle on time.
Work done within the set timeframe and with Ford original parts.
Finance provided without any trouble.
Total Cost, slightly lower than at Ford.
Service4Service were unable to assist me with the recent failure of the mechatronic unit on my Seat Altea xl primarily due to the geographic location of myself in Central Scotland and their nearest repair Centre being in Newcastle. That said their Technical Services Consultant Chris Lindsay took the time to call me and offered me some very good, practical and professional advice on how I should go about seeking a specialist garage which I did and I have to say a very good thank you to Chris and Service4Service on their help and advice.
Thanks guys for doing such a great job. Had my Audi gearbox repaired by Service 4 Service. I got a quote from Audi which was too high! Then rang around a few other places, and these guys were much more reasonably priced in comparison, and super helpful through the whole process. Done a professional job and now my car is driving better than ever! Highly recommend.
I would like to say what a fantastic company this is, I was unsure at first but I'm so glad I did. I contacted them about my faulty gearbox and they sorted everything out, collection of the car always kept in touch with me and kept me up to date with what was happening, They really were very helpful thanks again service 4 service will use you again
Had my Audi gearbox repaired with service 4 service, Liam looked after my vehicle throughout explained in detail what the likely issue was with my vehicle and the potential costs involved before it was arranged to be collected. Would recommend to a friend! Thanks Liam & Service 4 Service team!
Recently taken my audi in after the gearbox stopped working. After speaking to my usual service centre I called service 4 Service as they advertise as automatic gearbox specialists. My car was put on a recovery truck within two days and all timescales explained to me. The following week I received a call and the gentleman went through a very detailed report with me over the phone and answered all my questions. I got my car back yesterday and it runs like New! Thank you all so much, I will definitely recommend you to everyone and be back when my service is due.
These guys a great, I would not tell anyone to go anywhere else ! Service 4 Service are great, they helped me out massively for my Range Rover sport Gearbox repair, Lewis and the team looked after me very well. Great guys, special mention to Holly in the recovery team. These guys are great at everything. Best garage in the London area. Have a lovely Christmas. D
My Transmission issue. I was sceptical of using service4service as I had dealt with so many garages regarding my cars transmission problem and i wasn't getting nowhere. I called and I spoke to a guy named Lewis Collins who explained to me their procedure of collecting, diagnosing, possibly fixing and returning back to me. Having not driven my car since May I was at this point desperate so thought why not. If I'm not happy with the quote il just get my car back. So I arranged for my car to be collected. I did a lot of research on the web about them and read many reviews, good and bad as you'd expect and as mentioned my moral about the car was already low but none the less o had faith. The day the driver was supposed to collect he called me to arrange for the next day...this annoyed me slightly but at least he called and let me know so I could that slide however this now making me more apprehensive. I was wrong however, the car was diagnosed and I was explained to what was wrong, what needed doing and of course the price. Throughout the week I remained sceptical but also optimistic..after all so many people had already messed me about 7days later I have my car back and she's moving beautifully...indeed I am one very happy guy! In all..a great service! Lewis and them guys hooked me up nicely!

**The lesser star is due to the collection as I had plans and I cancelled only to be cancelled on...but hey such is life.
Great job on my gearbox. Took my Audi in to get my gearbox replaced, the team were really good in keeping me informed of the progress on my car. For such a big job, I'm really pleased it was done so smoothly. Thanks. Claire
First time I used Service4service as had gearbox oil leak and had a warranty with the car, great service and kept me informed of all the problems that the warranty company threw at them as unable to supply invoices for work carried out prior to me purchasing the vehicle. Very quick repair once authorisation given and Chris and Mike were always very helpful and available to chat to or email. Would use again and recommend them to family and friends, Mark.
After a complete transmission fail on my car, i looked for a company to complete my repairs. After searching on the Net, Gearbox Repairs popped up on the screen. This company is brilliant, they collected my car from my home address and once the repair was completed, dropped it back to me again - was even done a day early than expected. I would like to express my sincere thanks to Jon Wood, who dealt with a query after i had my car back - this was done very promptly and efficiently - an excellent service and a massive thanks again. Fully recommended. Thanks again Jon Wood.