at Service4Service Blog in BMW
BMW 3 Series Range Expands To Include Four Plug-In Hybrid Models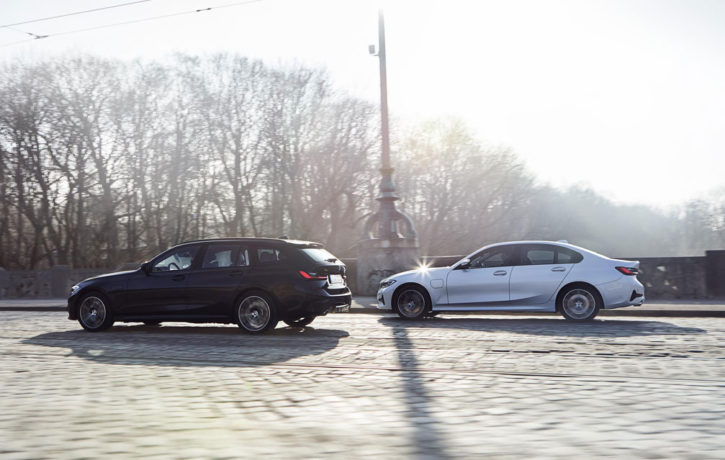 As part of it's 'electrification initiative' to provide an improved variety of electric and hybrid vehicles, BMW Group is increasing the number of plug-in hybrid vehicles available in the BMW 3 Series. The series is already home to the BMW 330e Saloon but following its successful launch, the series is now set to expand to include the BMW 330e Touring, with both models available in rear-wheel, and BMW xDrive to complete the four-car lineup.
Both models will feature the latest generation of BMW's eDrive technology, increasing efficiency, electrical performance and the driving experience all-round. Situated comfortably in the premium mid-range segment, the BMW 330e range offers a spirited drive that packs a powerful punch, not least due to the high energy content of the lithium-ion batteries.
The batteries have been designed specifically for each model to provide the optimum energy content, performance ability and storage capacity. Each battery has been designed to BMW Group specifications and eliminates the need for a generator to be powered by the combustion engine, improving efficiency without compromising on power.
The hybrid element engine of the new 330e Touring model still enables long-distance travel thanks to a 4-cylinder petrol engine that utilises BMW's TwinPower Turbo Technology. With an output of 184hp, alongside an additional 113hp from the electrical motor, the total 252hp standard output on the vehicle keeps this model very much within the BMW 3 Series' sporting heritage, meaning lovers of BMW's notorious power are still very much in luck. There's the option to boost the horsepower by 40hp for up to 10 seconds too through XtraBoost, which is available in SPORT mode.
The new Touring model's speed can reach 0-62 mph in just 6.1 seconds with top speeds of 136mph. The Hybrid mode allows for speeds up to 68mph when running on electric power alone, but will switch under heavier loads or faster speeds to offer a smooth and seamless driving experience that is entirely energy efficient. In eDrive mode, the car can reach speeds of up 87mph on the power of eDrive alone, with a range of up to 34 miles on a full battery charge.

The BMW 330e Touring will also see some of BMW's greatest and most up-to-date features including active pedestrian protection, 3-zone automatic air conditioning, heating that can activate prior to setting off and anti-dazzle mirrors for ultimate driving comfort at night. There's also the parking assistant, rear-view cameras, the BMW Live Cockpit ConnectedDrive with full voice control, as well as the full range of additional and optional features available on all of BMW's latest models.
The new BMW 330e models will all be released in Summer 2020, with both the standard and BMW xDrive variations available to the public. These new releases are a huge turning point for BMW Group in their efforts to take on more of the electronic and hybrid market, with over a quarter of vehicles sold by the company set to be electrified by 2021.
At Service4Service we provide a quality car service for your BMW, maintaining its optimal performance, safety and comfort, at a much lower price than found with any of the main dealers locally in your area.
The following two tabs change content below.
Hayley
Hayley is a fully fledged pistonhead. She regularly writes about motoring across a variety of niches, including vehicle servicing, road safety and auto reviews. She specialises in
Mercedes-Benz
.