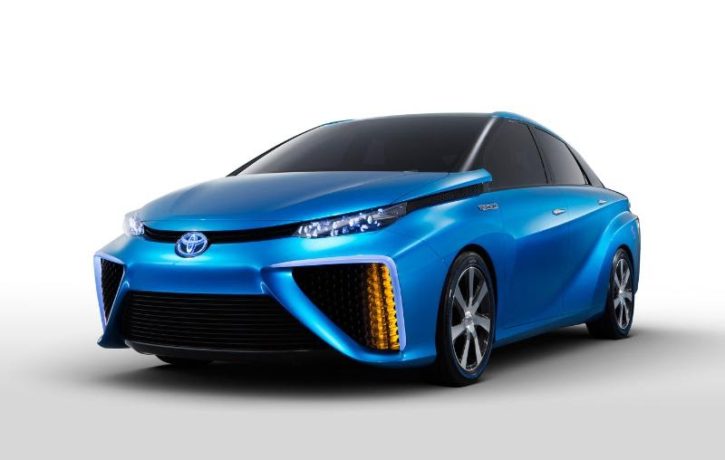 More and more Motoring manufacturers are beginning to turn to shows like CES, the Consumer Electronics Show held in Las Vegas each year, to unveil their latest in car high-tech wizardry.
In 2014 we have seen the likes of BMW and their autonomous drifting technology, which involves the use of an array of lasers, cameras, maps and sensors. We've also seen Audi give a keynote address that showed off their new "laser-beam" headlights, and collaborate with Google on an Android based infotainment system.
Toyota were also at CES with the plans for their "Car of the Future" the FCV Hydrogen Fuel Cell Concept, which was initially unveiled at the Tokyo Motor Show in 2013. It seems highly ironic for an energy saving vehicle to be showcased in Las Vegas, a city that can be seen from space due to the high volumes of lighting, rather than Los Angeles where the vehicle will first become available in a limited number during 2015, according to Toyota.
We've been hearing that hydrogen powered cars will be the next big thing for quite a number of years now, however Toyota are insisting that the FCV is more than simple a concept. It has astoundingly racked up more than one million miles of test driving, with nothing but water vapour emissions, over the last 11 years of testing.
Toyota are aiming to manufacture the FCV Hydrogen Fuel Cell Concept with a 0-60 time of approximately 10 seconds. The car should be able to drive a range of 300 miles before needing to refuel. The refuelling time should be about 5 minutes with the price so far only quoted as "reasonable". Toyota are insisting that these cars will dominate our near future.
The real issue with getting this technology out on the streets comes from refuelling as there would need to be a sufficient network of hydrogen refuelling stations. To tackle this, Toyota are working closely with the University of California Irvines Advanced Power and Energy Program with a view to determining possible locations for sites throughout LA, Silicon Valley, San Francisco and San Diego with $200,000,000 USD worth of funding already confirmed. This will allow a network of approximately 10,000 FCV hydrogen fuel powered vehicles to operate in and around that area.
Its likely that the official name for the car, along with the confirmed prices and specifications will be announced later on this year at the Los Angeles Auto Show.
The following two tabs change content below.
Hayley
Hayley is a fully fledged pistonhead. She regularly writes about motoring across a variety of niches, including vehicle servicing, road safety and auto reviews. She specialises in
Mercedes-Benz
.